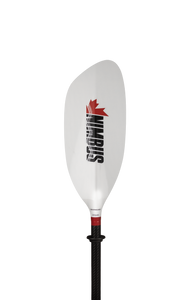 Had enough flat water? Looking to explore more exciting territory? Eventually as a paddler advances into more turbulent weather and waters, a standard paddle begins to show its limitations – this is where the Wave Walker excels. 
Cut from the same mold as the Kiska, but we've let nothing go to waste. With the largest powerface in our touring line, this blade maximizes your real estate in every stroke.  Squeeze every bit of power out of your pull when  you really need it to count!
The Wave Walker best fits paddlers in need of a blade that can take them through big ocean waters, surf, and tidal currents with confidence.
FEATURES:
Ideal for high-angle paddlers
Large power face to move you quickly and efficiently through rough waters
Great for play in big water and surf, and for expeditions on rough, exposed waters
Suitable for all conditions
White fiberglass blades, carbon fiber shaft.
Weight and Dimensions:
 Elite – 800g (28oz)
 Blade size – 18cm x 48 cm