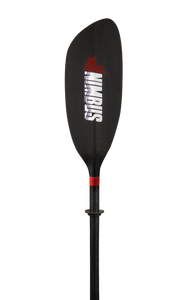 The Wave Walker SP can be considered the little sibling for the Wave Walker.

Meant for high angle paddlers and those looking for an aggressive blade ideal for rough seas, surf, and currents.

Its smaller surface area and slimmer profile makes it a more forgiving blade for smaller paddlers and those looking for a more nimble version of the Wave Walker. A great amateurs and pros alike.

100% handmade on the West Coast of Canada using high quality woven materials, sourced within North America.
FEATURES:
Ideal for high-angle paddlers
Moderately sized power face to move you quickly and efficiently through rough waters
Great for play in big water and surf, and for expeditions on rough, exposed waters
Suitable for all conditions
Carbon fiber blades, carbon fiber shaft

WEIGHT AND DIMENSIONS:
• Carbon – 720 grams (25oz)
• Blade size – 17cm x 47 cm