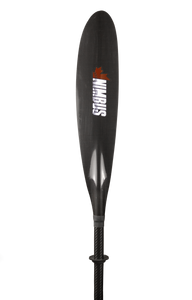 The Squamish is the smallest/slimmest blade of our Quill-Type paddles, and designed specifically for the life long enthusiasts who are looking for a change from a conventional paddle that will reduce fatigue and conserve energy for those longer journeys.
With their long slender shapes, the Quills shed water from the power face of the blade far more efficiently than a conventional shape, translating into less resistance with each stroke.
The Quills are also favoured among paddlers who cover a lot of distance in a day, and want to conserve as much energy as possible on their long journey.
Its all carbon form has been reformulated to offer an ultra-light paddle under 600 grams to further reduce fatigue.
The Squamish may not win you any races, but it will get you through a marathon. 
 FEATURES:
Low-resistance shape reduces muscle and shoulder fatigue
Ideal for low-angle strokes
Great for day excursions, long trips, and extended expeditions.
Suitable for moderate ocean conditions.
Carbon fiber blades, carbon fiber shafts.
WEIGHT AND DIMENSIONS: 
UL Carbon - 585 grams (21 oz)
Blade Size  - 10cm x 61cm